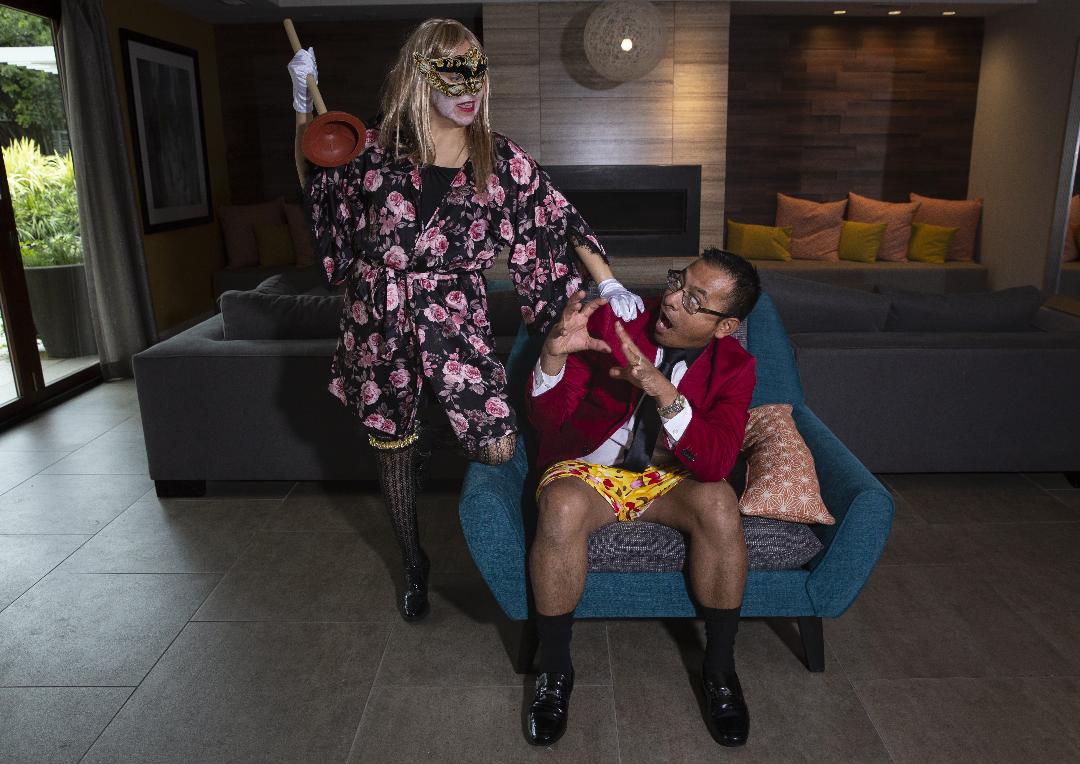 Compiled by the El Reportero's staff
Define American is bringing eight undocumented artists to Oakland next week to launch the first-ever Undocumented Artist Fellowship program. The fellowship connects these artists with resources, a stipend, and national exposure through Define American, while also demonstrating that art is a universal language. We are fighting to ensure that the thriving arts scene in the U.S. is fully imbued with energy from all over the world. The artists come from six cities in five states, including two from California. They are painters, sculptors, musicians, designers, photographers, performance artists, and experimental filmmakers.
Please join us as we unveil our cohort of fellows and invite attendees to meet the artists in attendance.
On Saturday, May 4, 2019, 5-6:30 p.m., at Pro Arts Gallery & COMMONS, 150 Frank H. Ogawa Plaza, Oakland.
Docu-theater production celebrates Afro-Cuban immigrants and Cuban-Americans
This new and timely docu-theater production celebrates Afro-Cuban immigrants and Cuban-Americans who have accomplished a high level of excellence in the United States, Cuba, and abroad through hard work and iré, the Lucumí condition of being blessed with positive energy.
Performed in English and Spanish, We Have Iré tells the true life stories of four Cuban artists—Youth Speaks cofounder Paul S. Flores; DJ Leydis, the first Afro-Cuban female DJ to play at the White House; award-winning dancer and choreographer Ramón Ramos Alayo; Grammy-nominated artist Yosvany Terry—while giving them the space to tell their stories on their own terms through dance, music, and spoken word.
On Friday and Saturday, May 10–11, 2019, at 7:30 p.m.; Sunday, May 12, 2019, at 2 p.m.
YBCA Forum, 701 Mission Street, San Francisco.
Teatro Nahual presents "The First Lady" (Spanish)
The First Lady written by the Mexican playwright Willebaldo López is a farce that reflects the absurd reality of the politics that surrounds us worldwide. This work, in a grotesque way and at the same time very close to reality, shows the scope of corruption in which the political layers and the type of ambitious individuals that make up the political posts move. The public, through laughter, can see reflected the reality of the town. Likewise, the eccentric personality of a political leader and the opulence and ambition of his first lady are caricatured, who try to reform the laws for their own convenience, regardless of the welfare of the people.
The work has the performances of Juan Aquino, Lucía Peralta, Geraldo Cadenas, Marco Morales, Brenda Gutiérrez and Carolina López.
The original music is by the masters Gerardo Fernández and Isidro Jiménez. The set design is by Bridget Wylie. The stage direction is in charge of Verónica Meza.
"The First Lady" will premiere on Friday, May 24 at 8 p.m., followed by more performances on Saturdays, May 25, Sunday, May 26, at matinee at 2 p.m .; Friday, May 31 and Saturday, 1st. of June.
Place: MACLA-510 S. First Street in San Jose, CA.
Tickets are on sale at the Teatro Nahual site: www.teatronahual.org. You can also buy them at the theater door or book your tickets at: (650) 793-0783.
FLO, The Funky Latin Orchestra
The band FLO led by Mio Flores, El Timbalero, consists of a collection of musicians based out of the San Francisco and greater East Bay Area. Each with 30 years and plus of professional entertaining, performing, recording and touring with many greats of the music industry.
This group of well seasoned musicians have been playing together and entertaining audiences of many diverse social backgrounds and genres of music and have crossed paths with each other anywhere from the last five to 25 years in their careers. "FLO" Funky Latin Orchestra is pleased to be at Club Fox with all of you on this great night.
Azul Latino is led by Ernie Nolasco who is a self-taught lead guitarist with over 30 years of experience in the local Bay Area Music Scene. Growing up in the Mission District of San Francisco, Ernie was immersed in the eclectic blend of musical scenes that traversed the Bay Area through the 70s and 80s. Drawing influences from Ernie Isley, Neil Schon, Jimi Hendrix, and Carlos Santana. Ernie is a product of the Guitar's Golden Age; when artists used the guitar to organically emulate emotion.
(www.azullatino.com).
On Saturday, June 1, at Club Fox, 2209 Broadway, Redwood City. Doors open 7 p.m.
Show 8 p.m.. Advance: $20/ Door: $25. For More Information, call 415-285-7719 or write DrBGMalo@aol.com.