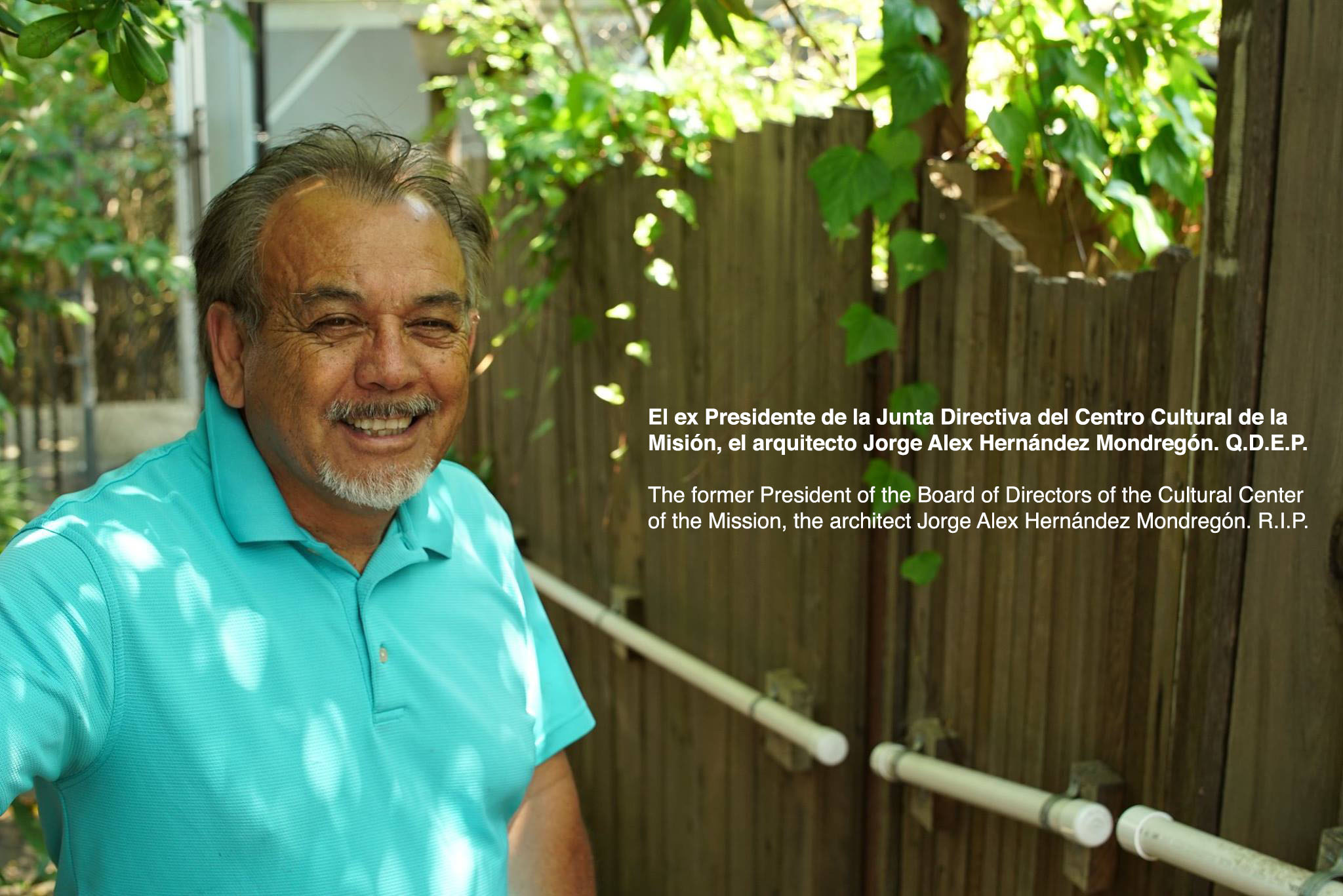 NOTE FROM THE EDITOR:
The staff of El Reportero newspaper and especially its director, Marvin Ramírez, offer their sincere condolences to his brother, our colegue Roque Hernández, the video journalist of Univisón for more than 30 years, for whom it has been a very hard blow the departure of his brother and mentor.
by Roque Hernández
Transformed perhaps already in cosmic dust Jorge Alex Hernández-Mondragón passed away on Feb. 13, embarking on the journey to another dimension surrounded by his family and friends, who prepare their last goodbye the day he would be turning 66 years old.
The architect and artist spent his last years living in Corte Madera taking care of his son until he reached adulthood. He died in a hospital near his home after suffering a brain aneurysm.
Jorge Alex undertook the trip to another dimension surrounded by family, friendships.
He was born on April 27, 1952 in the Colonia Santa María la Ribera in Mexico City, to Pedro and Esperanza Hernández Mondragón, who gave life to wh would be their third of six children.
Today he is remembered as the man who always cared about the development of his Latino/Chicano community in the Bay Area.
Jorge graduated from the University of Santa Cruz, California.
In his college days he played for the Banana Slugs rugby team where he was known as Alex. The relationship with his teammates remained throughout the years.
Another of his passions was golf, a sport that he practiced together with his brothers on a frequent basis, as this was the "pretext" to gather as a family.
Education was always an important issue for him and in his search to educate migrant children he worked in the Salinas Migrant Education Program in 1970.
During his years in Santa Cruz his house was a lair to celebrate life. His family and friends frequented his home that they felt was theirs.
Jorge was one of the people who without a doubt died confessing to have lived their way, always with a full smile and with time to enjoy a game of golf or have a glass of wine with friends. In his busy schedule as an architect there was always time for his loved ones. He loved people and lived the moment as if he knew that death could come at any time without warning.
In addition to his legacy as cult promoter and architect, he also leaves us his pictorial work.
Drawing and painting were his passions where he let out the deepest feelings, full of color and mystery hidden in the abstract.
Jorge was part of the development of two community pillars in the San Francisco Hispanic community: He was the President of the Board of Directors of the Cultural Center of the Mission, where he developed multiple cultural projects, and also left a mark on him as president of the 24th Street Merchants Association, whose organization he led in times before the gentrification began, protecting Hispanic commerce in that corridor called the Latino Cultural District today.
He was an unforgettable character, a gentleman of the old style, worthy representative of the Latin American / Chicano culture.
A month after your death, his brother Roque asks: "where are your smiles, your hugs and looks that departed with you? What have you become, in color, in air, in ashes, in the wave of the sea? We also do not know, the only certain thing is that you're gone.
"A big hug, brother, friend, father and colleague. On a cloudy day in February, you got ahead on the road. Today we live from your absence and memory. RIP. Until forever!"
He is survived by his son Lucas Evans, his stepson Theodore (Theo) Evans; his brothers Frank Hernández (m. Teresa), Roque Hernández and Eric Hernández (m. Anne); his sisters Martha Castro (m. Joseph [Joe]) and Connie Prosser (m. Charles [Charlie]) nieces Shelly Ann Jelus (m. Jeffery [Jeff]), Erica Hernández and Alex Marline McAuley (m. Blake); nephews Patrick Hernández (m. Jessica), Christopher Castro Seguin Pacheco, Ian Prosser, Garrett Hernandez and Sean Hernandez; grandchildren and granddaughters, and a lot of aunts, uncles, cousins and friends from around the world.