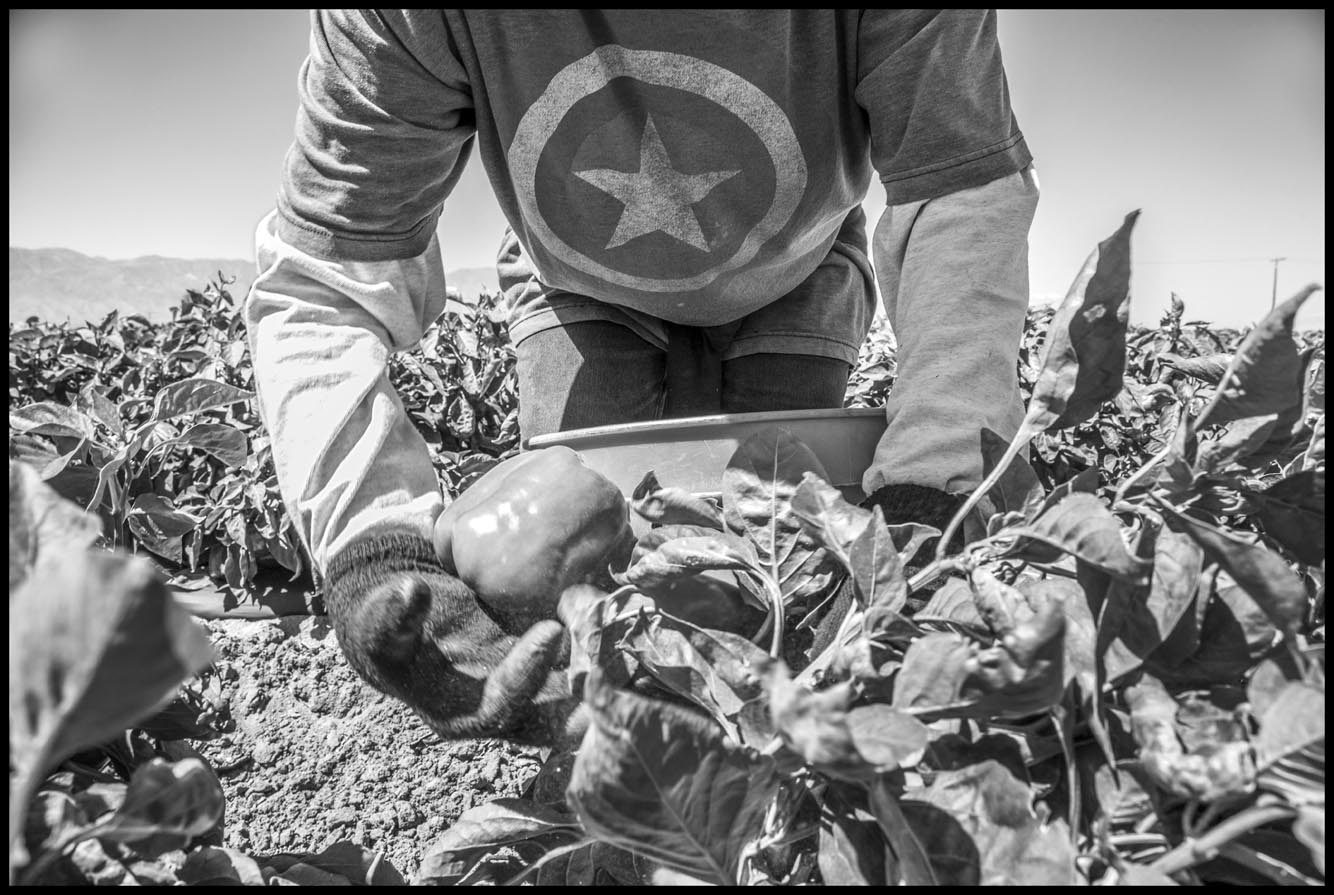 Republican immigration reform proposals may be dead, but Republican guest worker proposals live on…
by David Bacon
On Wednesday, June 27, the Republican effort to pass a comprehensive immigration reform bill went down in flames for the second time in a month, due to divisions within their own party. The Republican effort to create a vast new guest worker program, however, has not ended.
That effort has been headed by Rep. Bob Goodlatte (R-VA), chair of the House Judiciary Committee, and is supported by many growers around the country, particularly on the west coast. Originally Goodlatte introduced a stand-alone bill in 2017, the Agricultural Guestworker Act. Although that bill didn't get a vote in Congress, its main provisions were folded into a much larger, comprehensive bill Goodlatte tried to pass this spring, the Securing America's Future Act. That bill failed by a vote of 193 to 231. Goodlatte then incorporated his guestworker provisions into the Border Security and Immigration Reform Act (H.R. 6136). That fared even worse, 121 to 301.
Nevertheless, House Speaker Paul Ryan made a promise to Congressman Dan Newhouse (R-WA) , a cosponsor of H.R. 6136, that he would hold a vote on agricultural worker issues before Congress adjourns at the end of July. After noting his minority votes for the two comprehensive immigration bills, and criticizing fellow Republicans for torpedoing them, Newhouse said in a statement, "the House has yet to address the crisis facing agriculture producers who cannot find enough workers, and I will not stop advocating for improvements to create a reliable legal guest-worker system. If our nation's farmers are to continue providing food for America and the world, it is incumbent on Congress to act to address labor needs. I thank the Speaker for committing to hold a vote on this matter in July."
Goodlatte's guestworker bill has not yet been reintroduced, but when it is, the contents will undoubtedly be the same as in previous iterations. The latest guestworker provisions, in the Border Security and Immigration Reform Act, are a window into what's to come. Those provisions would create a massive new guestworker program, based on a new visa category called H-2C. This would take the place of the current H-2A visas, whose numbers have increased from 44,619 workers in U.S. fields in 2004 to 200,049 last year – a growth of over 450 percent in a little over a decade.
Critics of H-2A visas have two chief complaints: first, that workers in the program are exploited and often cheated, and second, that resident farm workers are displaced by growers who see H-2A workers as easier to control, and potentially less expensive. The proposed H-2C program would put the H-2A program on steroids, according to Bruce Goldstein, director of the Washington DC-based farm worker advocacy group, Farmworker Justice.
"Over the last year," Goldstein charges, "Rep. Goodlatte has made it his mission to create a massive new guestworker program of millions of captive workers who have even fewer labor rights than the current workers they would replace. His new guestworker program would convert an entire industry, from the farms and ranches to the packing houses and processing plants, from lettuce and grapes to dairy cows and poultry, into a labor force of exploitable temporary guest workers with virtually no workplace protections and with no opportunity to join the communities they are helping to feed."
Goodlatte's H-2C provisions might result in 2 million visas issued in the first two years, Farmworker Justice predicts, supplying contract labor to meatpacking and food processing in addition to agriculture. Growers would be able to employ workers year round, and continuously from one year to the next. Current H-2A workers have to return to their home countries within a year, and can come back the following year if they receive a new contract. In either program, workers have the same vulnerability. If they fail to meet grower production demands, if they complain or organize, or if they simply get on the wrong side of a foreman, they can be fired, and must leave the country immediately.
Today each state has to calculate a wage rate for H-2A workers that, in theory, doesn't undermine local farm worker wages. H-2C worker wages, however, would be set at 115 percent of the federal $7.50/hour minimum wage, or applicable state or local minimums. This locks in farm labor wages at the minimum wage level, since local farm workers that demand more could be replaced with contract workers. Workers' fear of replacement by H-2A labor is already affecting strawberry wages in Santa Maria, for instance.
(This article was cut to fit space. To read the entire article please visit https://capitalandmain.com/the-zombie-guest-worker-bill-0702).