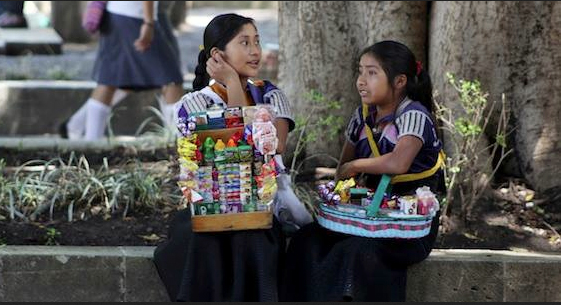 Compiled by Mexico News Daily
In the second poorest municipality in one of Mexico's poorest states, girls under the age of 15 are being sold by their fathers as virgin brides for 180,000 pesos (US $9,400), or in many cases even less.
In the last 17 years, more than 300 young women have been forced into marriages of that type in Metlatónoc, Guerrero, according to a human rights center in the Montaña region where the municipality is located.
In most cases, the fathers of prospective grooms pay the fathers of young daughters so that their sons can have a teenage, virgin girl as a wife.
If a higher price is quoted, the typical response is "they don't want her as a whore," Melitón Hernández, a police chief in the town of Yuvi'nani, told the newspaper El Universal.
A local lawyer and advisor to the municipal trustee said that the tradition is engrained in society, above all among the indigenous Mixtec Tu'un Savi people.
"It's an old practice that we can't eradicate even though the law says that the practice is a crime, specifically human trafficking," Serafín Nava Ortiz said.
Another lawyer, who works for the Tlachinollan human rights center in Tlapa, has worked on more than 100 forced marriage cases over the past 17 years in which she has tried to convince parents of girls to alter their opinions about the practice.
Girls who refuse to get married at such a young age turn to the center to act as a mediator with their parents, Neil Arias explained.
Often, she believes she is successful in changing the parents' minds but admitted that once they left the center's doors, she didn't know what the final outcome would be.
"How many marriages end up being carried out or are left unregistered? It's unknown.  It's a hidden figure, the cases are still constant," she said.
In its 2017 annual report, the Tlachinollan center stressed that the practice has lost all of its traditional significance to become nothing more than a "commercial exchange" that infringes on a girl's body and dignity and "could result in the crime of human trafficking" being committed.
Treated like objects and the private property of their husbands, the girls and are forced into sexual relationships without giving prior consent, the center said.
Cases of rape, family conflict and breakdown and monetary disputes have all been reported in relation to the practice. At least one man has also been imprisoned on human trafficking charges despite arguing that he acted in good faith in accordance with his community's traditions and customs.
In an interview, even the police chief admitted buying wives for his sons, saying that three years ago he paid 110,000 pesos (US $5,735) for a 14-year-old bride. Asked where he got the money from, Hernández responded, "I was on the other side [United States].
"I brought about 300,000 pesos from there…" he explained. Years earlier, he paid 130,000 pesos for a wife for his eldest son.
Others sell goats, pigs or land to raise the funds, Hernández explained, adding openly that many men also cultivate opium poppies. He also joked about buying his own wife, saying flippantly that he paid "50 pesos about 55 years ago."
However, for the Tlachinollan center and at least some elements of local authorities, the issue is much more serious. Nava Ortiz explained that while the matter is more complex than it seems at first glance, the practice of buying underage girls for marriage against their will must be stamped out.
"For us, the authorities, this practice is a crime," the trustee advisor said. "We have to end this practice, through talking [and] raising awareness."
Source: El Universal (sp)
In other news from Mexico:
César Duarte's arrest 'days away:' governor
Extradition request for ex-Chihuahua governor is imminent, his successor says,
One of Mexico's band of former state governors accused of corruption could soon be back on home soil to face charges.
A request seeking the provisional arrest and extradition of former Chihuahua governor César Duarte from the United States is imminent, his successor declared yesterday.
Duarte has been on the run since March when he fled to Texas to avoid possible corruption charges.
But Governor Javier Corral said that there is no possibility that Duarte will avoid prison and that holding the ex-governor to account is a priority and central to his political platform.
"We are days away from the federal government requesting the United States government [to make] the provisional arrest for extradition purposes, with the intent of fulfilling one of the main campaign promises: attacking corruption and forming a transparent and honest government," he said.
Corral added that 14 officials from Duarte's inner circle had already been arrested.
Former education secretary Ricardo Yáñez Herrera was sentenced last month to four years' imprisonment for the embezzlement of 246 million pesos (US $12.9 million) while a high-level official in the same secretariat was given a three-year term.
Duarte is believed to be living in El Paso, Texas, just across the border from Ciudad Juárez although there is a possibility that he is elsewhere in the United States.
Corral said that having 10 arrest warrants issued against a single ex-governor — as is the case with Duarte — was unprecedented in the history of Mexico. In contrast, former Veracruz governor Javier Duarte, who also fled the country but is now back in Mexico awaiting trial, only had two arrest warrants against him.
Source: Milenio (sp)